The Best Women's Steampunk Watch (2018 Review)
By Steampunk Origins | Updated Nov 04, 2018
Telling time has never been so chic – except, of course, for the fact that it always has been, right from the invention of the portable clock: the equivalent of what used to be a pocket watch for distinguished gentlemen was worn on the wrist by fine ladies.
Today, there's nothing like honoring the origins of this staple with a steampunk-inspired version, so let us help you do just that with a selection of some of the best steampunk women's watches out there.
Womens Steampunk Watch Quick Review
A watch with an exposed movement has never come at such sweet a price.
---
Steampunk Watches for Women
Watches in general are already steampunk, what with all the gears and screws. It also helps that the watch, as an object, has not changed much since the day it was first invented as a thing with hands to clasp around the arm.
Right from its inception, changes to the watch only dealt with digitalizing the mechanism, by using a vibrating quartz, for instance. The fact that battery powered timepieces – like some of the ones mentioned below – are not very steampunk, we will graciously disregard in those instances, and rather judge by the design alone.
That being said, the fact remains that in choosing a steampunk watch, your best bet is to go with a tourbillon, which is French for whirlwind, a complication on any watch that aims to counter gravity with a balance wheel. This is most often left exposed on the watch face, mainly because it looks amazing.
Today, through an understandable misunderstanding, tourbillon is often assumed to mean any part of the internal mechanism being exposed and visible when you check to see the time. Whichever way you look at it, gears and little mechanical marvels spell steampunk, which is what we're aiming for here.
Considering this, your choices for a watch to match the subculture are not limited to niche products, and you can go with any of the endless options available, with prices ranging from the cheap to the truly prohibitive.
Watches, especially analogue ones with the movements sophisticated enough to show, are usually a luxury, and spending more means getting a better product. This does not mean that you must spend your kids college tuition on a watch, but if you are looking to buy something particular and want it to serve you well for years and years to come, spending a bit more is worth it.
Styling Considerations
Last but not least, a note on design: no matter what anyone says, watches are unisex, and any watch that can be worn by a man can be the right choice for a steampunk lady, too. But instead of borrowing your significant other's, why not get your own? Or, pick one of the below as a gift for your steampunk lady, as the case may be.
The list below features both more traditionally feminine designs along with some genderless options, so you can find the one to match your style.
Sometime in the 16th century, watches wandered from the pockets of gentlemen to the wrists of ladies, like that of Elizabeth I of England, to name but one example, making wrist watches a female accoutrement first and foremost, unlike what modern marketing would have you believe, a gadget borrowed by the bored housewife from the working husband.
With all that out of the way, here are some of the ones we think go really well with any steampunk mindset or outfit:
Womens Steampunk Watch Review
Unique, strange and unusual – three words that describe perfectly both this watch and steampunk women. A match made in heaven.
This rather feminine model is a solid, sturdy watch that looks very expensive, though the price is really rather reasonable, especially considering that some of the embellishments are Swarovski crystals. And there are a lot of embellishments: gears, stones, screws and detailed metal decor.
The only problem is that it is a quartz watch, or battery operated, when it could easily have been a wind-up. But that's where the issues end with this gorgeous, Italian leather strapped timepiece.
A busy and ornate watch, one thing is certain, you won't run into anyone wearing the same model even at a steampunk costume party, which is what we presume you want from a watch.
The beauty of it is that you can easily pull it off with both formal attire or jeans and a t-shirt to add a bit of zing to your outfit. This is the kind of watch you will want to keep checking all day. And yes, the dial is quite large, but this watch is decidedly ladies only.
Particular
Unique timepiece
Could be a wind-up instead of battery operated
---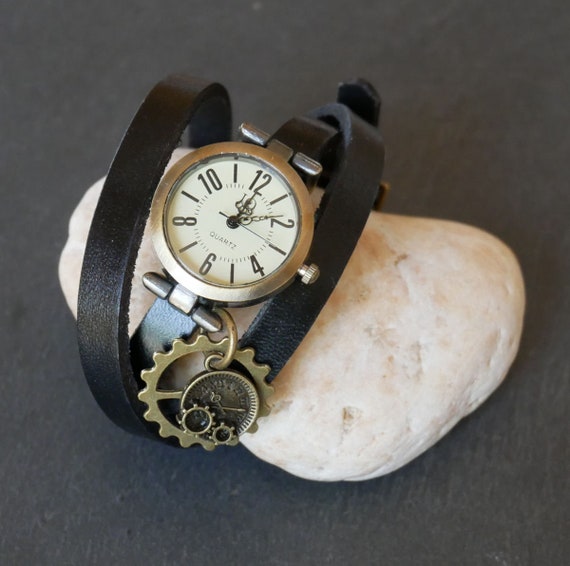 Subtle and sophisticated, this watch is ideal for daily wear and will add a bit of steampunk to your work week.
Now for something much more low-key: a long, thin wraparound leather band holds a small dial with detailed hands and a charm with gears on it. This watch comes in many color combinations for both the band and the face, so you are guaranteed to find the one best suited to your style.
The price on this thing is unbeatable, if the steampunk reference may be too subtle for some, though the soft-spoken statement allows for it to be worn with virtually anything without being too loud.
The old saying that less is more holds truer than true here, and sometimes, with a steampunk watch, a little goes a long way.
The leather band is long, but holes can be added by the manufacturer if you request it on purchase, so this watch fits absolutely any arm. That, and an option to have anything engraved onto the leather bracelet makes this watch a very personal choice.
A big plus is that it contains neither lead nor nickel, so the chance for allergies is greatly reduced.
Very subtle
Versatile watch
Options to personalize
May be too subtle
Quality is not exceptional
---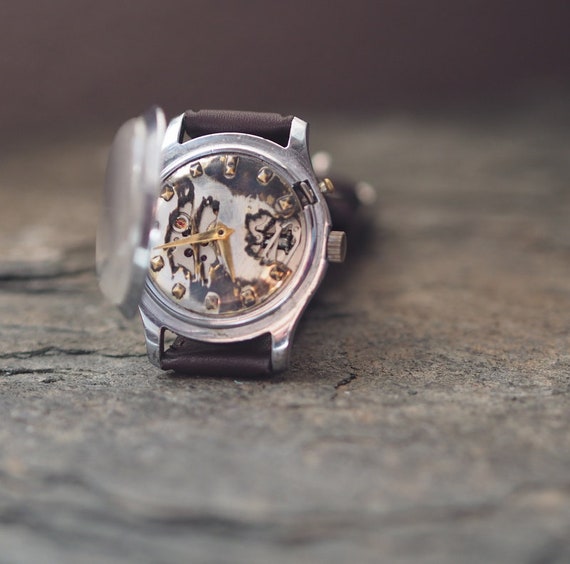 This diamond in the rough is a subtle but nonetheless statement-making watch, making it a great option for a daring lady.
This piece winds manually, which means there's no need for honestly un-steampunk batteries like there is on the first two models. A modified soviet watch from the 60s, this is a collector's item. Each one is also completely unique with a face altered by hand, featuring little bolts that add interest to the watch.
It also comes with a lid that covers the watch face, so you have to open it if you want to see what time it is. The watch might be more on the masculine side, but would look lovely on a lady otherwise favouring feminine styles, providing a very steampunk contrast.
Its rugged looks unfortunately make this model unsuitable for most formal wear, as elegance is perhaps not what comes to mind when looking at it.
That being said, what you are reminded of with this watch are saloons, railroads and the dusty, mysterious towns of the wild wild west. You need to be a certain type of person, regardless of gender, to pull this one off, but if you are, there's no stopping you.
Unique
Has a lid
Windup
Authentic collector's item
Not the best choice for formal events or very feminine style
---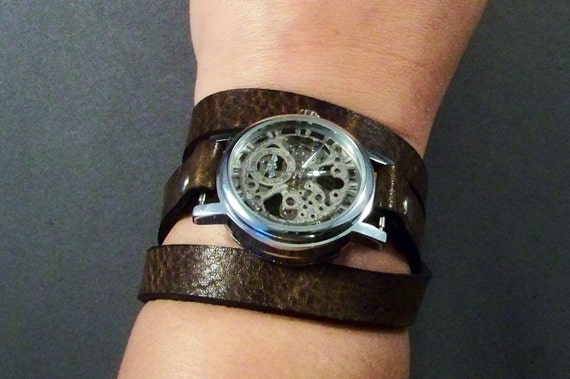 A watch with an exposed movement has never come at such sweet a price.
Another wrap-around band watch, this handmade one is a full tourbillon, meaning, in this case, that the entire movement is exposed. The thing about watches like that is usually that they are very expensive, sort of like those fancy restaurants where you can sit in the kitchen and watch the staff prepare your meal.
But this watch is an exception, in that the price is very reasonable, even if you can't tell by looking at it. It would almost be suspiciously reasonable and if it wasn't for all the fantastic reviews, we might think it's too good to be true. But it isn't.
This watch is self-winding, and the make must be of a certain quality to allow for this feature. Aside from the amazing specs, there's something about the wraparound band set against the skeleton of the watch that makes this model very pleasing to look at.
Large dial may not suit every arm
---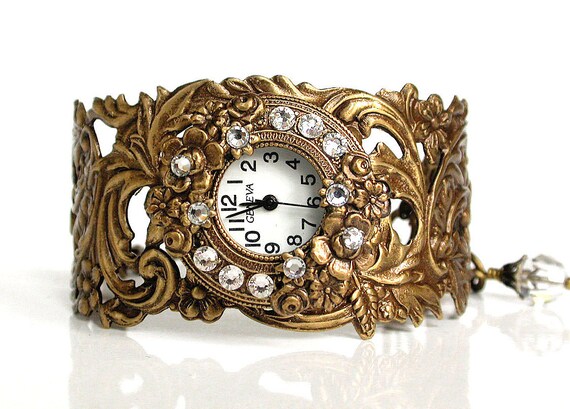 An attention-grabbing option for special occasions of a certain flair, this watch will get you noticed.
If all of the above were not out there enough for you, this one will most certainly be. Though the movement is concealed and gears, cogs or screws are nowhere to be found, this very antique looking watch is a great match for a steampunk outfit. Plus, rhinestones!
The small dial is set into the middle of a thick, ornate brass bracelet with sinuous lines in the design reminiscent of art noveau. If you are looking for a watch to make you feel like a lady in waiting from a time woefully long past, this watch is the right choice for you.
It is certainly audacious and the very particular look of this watch may make it a little tough to combine with just any old outfit, but if you've got something to wear it with and someplace to go, there's no other choice that will do. The time will be the last thing on people's mind when they see you wearing this thing, that much is clear.
Borders on kitsch
Cannot be worn to many occasions
---
Our Favorite Pick
In conclusion, the world of steampunk watches is one of endless variety, and making a choice is an intensely personal ordeal. If, however, we had to pick one in your stead, we would go with the Women's Leather Watch, the most sophisticated, finest timepiece of all.
Related Posts