The Ultimate Victorian Burlesque Costume Guide (2018 Review)
By Steampunk Origins | Updated Nov 07, 2018
There is a common misconception about burlesque and what it represents. Sure, it has in the last few decades enjoyed a far more 'sexy' reputation, but it's not at all meant to be referred to as sleazy.
Burlesque started out In Victorian England around the mid 19th century and made its way across the Atlantic to New York.
Victorian Burlesque Costumes Quick Review
A costume made with a black satin bodice base accented with lots of red ribbon and lace. The bodice is boned with hook and eye closure or zip side and lace up back. Lightly molded cups with halter straps. The train is made with heavy weight red feathers with black tips that taper in a V shape toward the back and 5" long red beaded skirt in the front.
---
What is Victorian Burlesque About?
This form of theatrical entertainment was often a risqué parody performance that included plenty of jokes, song and dance, plus ample servings of leg. Of course, in those days the public was outraged by something so outlandish and was deemed as wildly inappropriate.
Ironically, tickets were almost always sold out. Times have changed and now there is simply no reason why you can't enjoy a bit of burlesque or dress up for Halloween in your finest Wild West or Betty Grable get-up.
What Makes A Victorian Burlesque Costume Special?
Here is the real question. What doesn't make this costume special? It's daring, it's historical and it contains many different features that makes it a superior choice for any themed occasion or, if you wish, daily use.
Over the centuries, the burlesque costume has evolved with the times and has seen some drastic changes, but still remains very unique and sought after. Victorian Burlesque has seeped back into Western culture with the likes of Moulin Rouge and Dita Von Teese (source). Let's just say that it's less of a taboo now than it was in the 19th century…
What Statement am I Making by Wearing a Victorian Burlesque Costume?
Victorian Burlesque is about sassiness and confidence. It combines aspects of wit, song and allure. Costumes feature plenty of add-ons and it's a wonderful blend of textures and touches of old-school glamour.
As a themed option, the possibilities are endless. You can opt for something less gaudy and go for something more subtle that pays homage to the 1920's or you can go all the way to town with top hats and lace-up boots. Whether you are donning certain elements of Victorian Burlesque Costume in your everyday life, or simply taking on a night of dress-up, the playing field is boundless…
Are There Different Types of Victorian Burlesque Costumes?
There are way too many… Anything from Las Vegas Showgirl to Vaudeville Vixen applies and the beauty of this fashion genre is that you can add your own personal touches to any costume to bring your inner corseted cutie to life.
Finding the right 'blank canvas' is probably the best way to go if you enjoy embellishing and re-working a costume to fit your personality, and there are thousands of different options to choose from. Luckily, we are here to help you weave your way through an ocean of velvet, tulle and feather boas.
Victorian Burlesque Costume Review
A corseted Victorian Steampunk Halloween costume constructed with a lace-up detailing and a corseted bodice with 4 plastic and 4 spiral steel bones to support the body. The costume also includes a full, mid-length skirt for a classic can-can look.
We're literally kicking off with a can-can dress that aims to provide you with enough glamorous showgirl vibes... and a tiny waist. This little black number is sure to do the trick on Halloween, as a stage costume or at a masquerade.
The ruffled, multi-layered mesh skirt is reminiscent of the Vaudeville-era and provides the right amount of fullness around the hips to further enhance your waist.
Detailed design
3 color options
International shipping
Wide size range
Free returns on certain sizes and colors
---
A satin over-bust lace-up corset and tutu skirt with a frilled slit; made of 90% polyester and 10% spandex. Hook eye closure and detailing on bust with a ribbon. The ensemble features 3 garments: 1 corset, 1 tutu and a pair of lace underwear.
For a slightly more risky approach in styling (and showing leg) this option will surely make a few heads turn. It's a perfect ensemble if you want to buy an entire set that even includes underwear.
It comes in one shade combination only (black and purple) but it's definitely a modernized version that doesn't look tacky. The detailing on the bust area makes it stand out from what else is out there, but this is not what you should wear if you wish to take a decent step back in time.
Even if it's not a very classic look, it can work as a cosplay outfit if you added the right accessories. However, it might be advisable to re-lace the back slightly if the fit is too tight.
Wide size variety
Ensemble can be detached if you wish to wear the pieces separately.
Strong boning structure
Lacks a bit of support around the chest area
Only one color option
---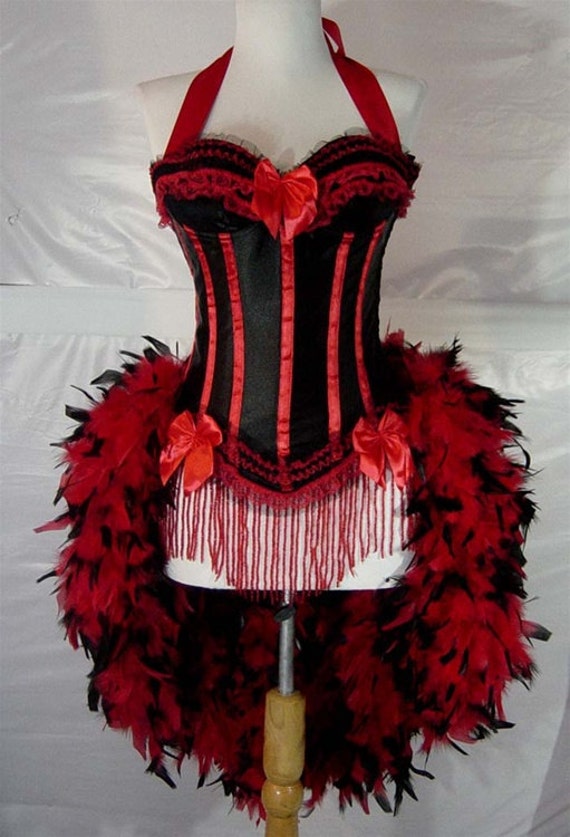 A costume made with a black satin bodice base accented with lots of red ribbon and lace. The bodice is boned with hook and eye closure or zip side and lace up back. Lightly molded cups with halter straps. The train is made with heavy weight red feathers with black tips that taper in a V shape toward the back and 5" long red beaded skirt in the front.
This is even racier than the previous number, but it's crafted with expertise and details that will definitely create old-school vibes. This eye-catcher doesn't include anything that covers up below the hip-line, so one needs to consider lingerie and perhaps stockings to complete the look.
The designer of this particular costume has extensive experience in the field and she has produced work for theatre events, as well as Las Vegas and Canadian casinos. She has been in business since 1999, so we'd like to think that you are in safe hands when it comes to quality.
The price tag is perhaps heftier than most of the other costumes on the list, but has a very unique look that is sure to transform you into the belle of the masquerade ball.
Professional costume designer
Personalized gift message
International shipping
True to size
Ensemble includes no lower-half garment.
---
A 90% polyester, 5% cotton and 5% elastane blend. Sizes run small and need to be checked through the chart that is provided. The over-bust corset features overlapping faux leather straps and intricate patterns underneath. Skirt and corset comes attached.
This is definitely the one option that works well if you are not much into the thigh-baring options that you've seen. While it may have its gothic undertones, it works well for Steampunk gatherings, themed parties, but should you combine this with a pair of lace-up boots and a cheeky hat, you'd definitely lean towards saloon burlesque girl – which is not a bad thing at all… A look is a look.
Plastic boning for easy bending
3 color options that include different corset designs
Corset runs slightly small, so be sure to opt for 2-3 sizes larger.
---
An off-shoulder corset top with long sleeves, spiral steel boned and busk-closure in the front. Corset laces up at the back and comes with a modesty panel. The embroidered skirt is overlaid with lace accents in a high-low design.
This is the only feature that includes a costume that comes in white (among other color options) and takes a far more modest approach in the way it's been designed. With this particular costume, you could possibly consider this as a prom or evening dress.
Corset and skirt are separate
Plenty of detail
Perfect for everyday use
Not many customer reviews.
---
Our Favorite One
With so much to choose from and so much to consider in terms of theme, body-shapes and of course value for money, it goes without saying that it's no easy task to get your hands on something that is crafted well, fits true to size and comes with an affordable price tag.
Of all the costumes that came up and the ones that made the list, the Carnival Showgirl Costume stood out most.
The work on the garment is spectacular and unique, but you still need to purchase stockings and bottoms to complete your look. It is in the end, a piece that works all angles: Can-Can Showgirl, Vaudeville Tease, Victorian Burlesque Babe and even Steampunk Queen.
Related Posts