The Best Steampunk Wedding Dresses for Sale
By Steampunk Origins | Updated Oct 09, 2019
Looking to make your loved ones speechless on your wedding day? Finding the perfect dress to accent your radiate beauty makes you feel all the more wonderful. That same beauty your loved ones see in you every day. If you're looking for something classy with an edge then take a look at steampunk. There's more than one way to be a steampunk and the five dresses reviewed in this article are steampunk wedding dresses in different hues of the spectrum. From the more whimsical to the traditional Victorian, these beauties are tailored made for you and your special day.
Steampunk Wedding Dresses for Sale Quick Review
A comfortable and versatile dress.
---
How to Find the Perfect Dress for Your Special Day
Your search for the wedding dress of your dreams should start about 9-12 months before the day you say "I do," (source) as the creation time can take months. For starters, you'll want to look for dresses that will accent your body type. If you have slimmer shoulders with wider hips then a more form-fitting top with bellow bottom will show off your curves. Respectively, if your shoulders are wider then your hips, as mine are, you'll want something puffy on your hips with a sharper angled top. When your waist, shoulders, and hips are all about the same size accenting your waist and adding a bustle, buffs your curves. Finally, if your hips and shoulders are the same while your waist is smaller than keep up the curves with waist accents, like with a corset for example (source).
Anything to keep in mind when shopping? The properties of the fabric: silk, for example, is a luxurious fabric. Good for summer and winter weddings as it regulates body temperature (source).
Finally, you're ready to order, now what? Measurements of course. All the dresses on this list made to fit you; thus, accurately measuring yourself is key. This video by Made to Sew is a great how-to guide (source). Just remember to wear the undergarments you'll be wearing with your dress. This will help negate a possible wardrobe malfunction.
Steampunk Wedding Dresses Review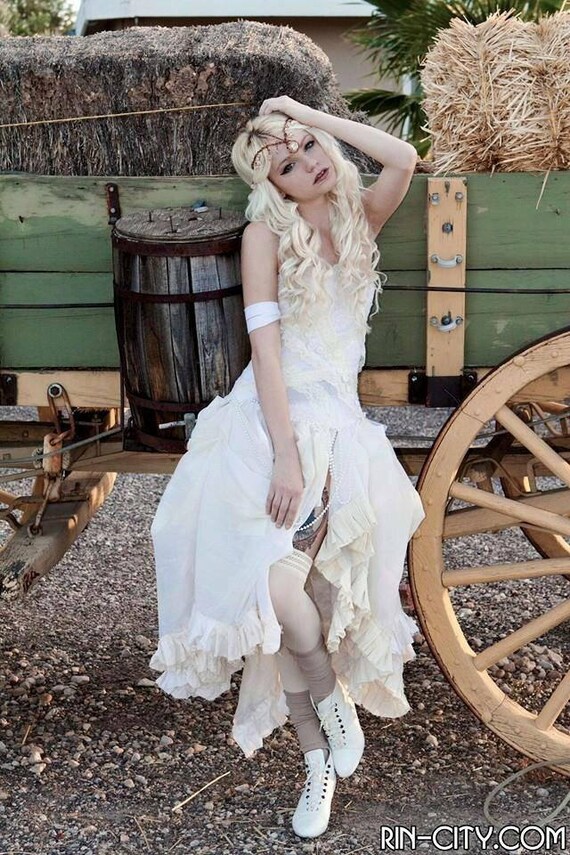 Good for those looking for a unique dress in the lower budget range.
On a whimsical note is this white steampunk wedding dress. Featuring a corset of vintage lace with a gathered skirt and ruffled hem. This dress has a fairy-like appearance. A corset in looks rather than function results in a less rigid top for a lightweight feel. The skirt is made of nylon, gathered for a bustle look, while preserving freedom of movement that the fabric provides. Suited well for a comfortable summer wedding.
Concerned there may not be enough time to get a custom dress for your wedding? Made to fit your every curve this dress takes the least amount of time at 3-4 weeks.
Lightweight
Lower price range
Plus sizes steampunk wedding dress option
Less traditional
Hand wash & hang dry only
---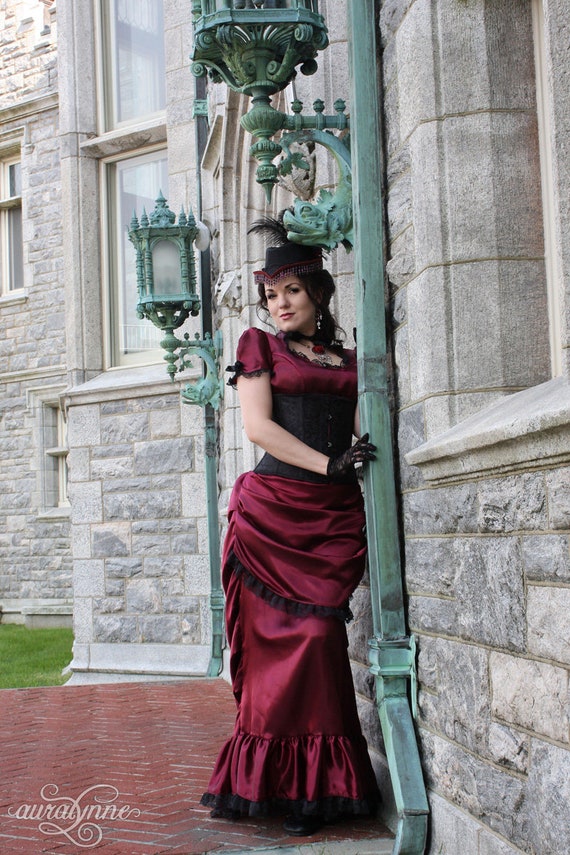 A comfortable and versatile dress.
If you're looking for a more traditional Victorian gown then this steampunk corset wedding dress may be the dress you're looking for. It keeps to the more traditional Victorian fashion with a splash of daring with the steampunk influence. Made of satin and lace, this four-piece gown is fit for a high-class occasion. Featuring a variety of colors and with a creation time of 6-8 weeks. Included is the blouse, corset, bustle skirt and petticoat - all you'll need are the shoes.
Can't decided on a full length or knee length look? The bustle is adjustable with ties at the sides which bring it from full length to knee length, at your whim.
Free USA Shipping
Color choice
Plus size steampunk wedding dress
Plus size has an increased price
---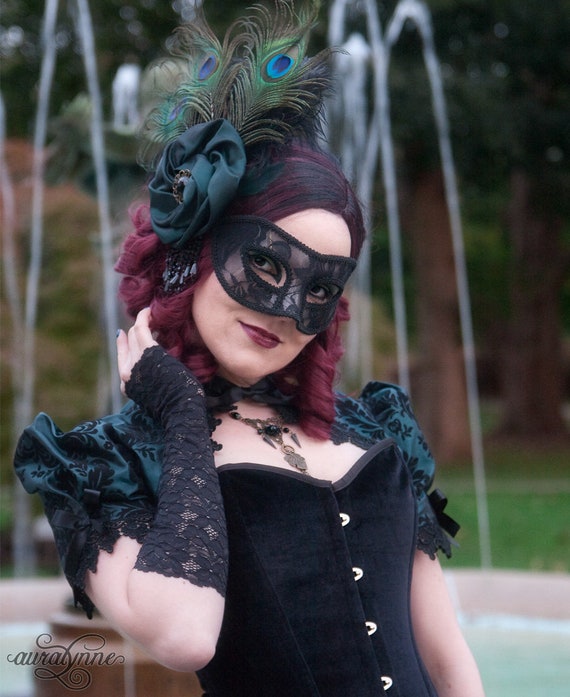 Comprising of 4-6 pieces, this dress offers a mix and match attribute from the options offered by the tailor and other outside pieces the bride wishes to add.
Need a bit more punk in your steam? This striking gothic influenced beauty offers an elegant edge in multiple forms for a lace steampunk wedding dress. A short sleeve bolero shrug and matching mini skirt accents a striking corset for a mysterious air. The skirt is a base with your choice of simple calf-length bustle or bustle with increased gathering and lace accents. Additionally, a floor-length lace underskirt can be added to either bustle if desired. This dress has a creation time of 6-8 weeks.
Style customization
Color choice
Plus size steampunk wedding dress
USA free shipping
Plus size increased price
---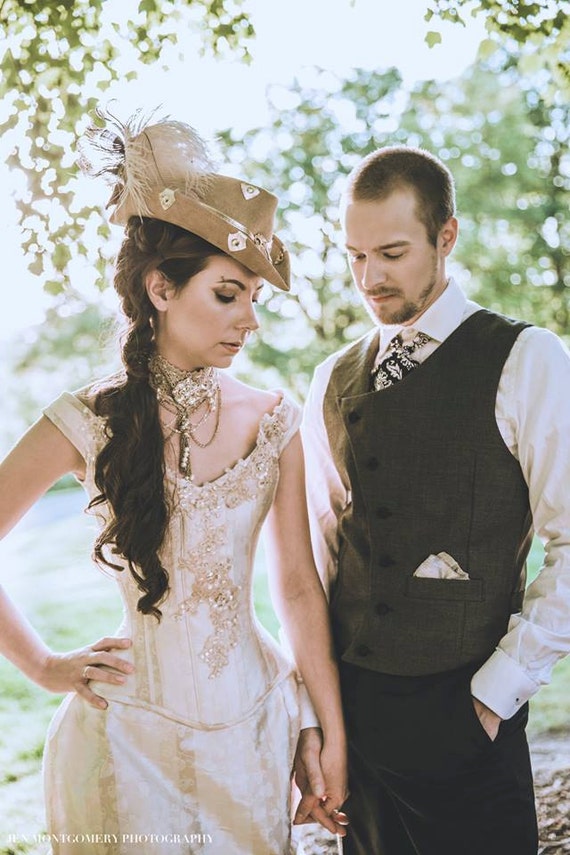 This dress is a classic look with a steampunk flare.
In 1840 Queen Victoria began the staple of white flowing lace wedding dresses. If you're looking to keep a more traditional look, while adding a kiss of steampunk then this silk and lace beautifully embodies both. Available in more than white, this wide V neck corset top hugs your body for the hourglass shape. The petticoat puffed, full-length skirt sweeps the ground. Creation for this wedding dress is listed at around 12-14 weeks.
Built-in petticoat
Color choice
Plus size steampunk wedding dress
Longer creation time
Unipurpose
---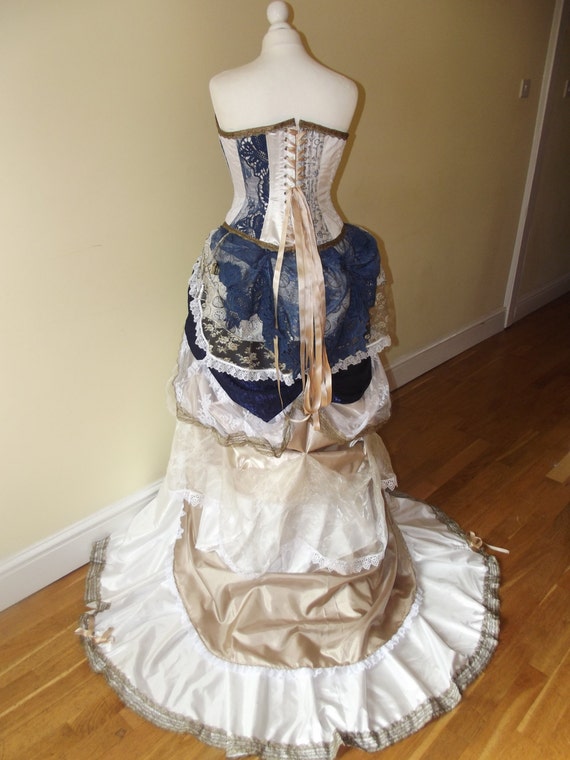 Designed just for you. A truly one of kind dress.
The most expensive steampunk wedding dress on this list comes with the most customizability and is truly a one of a kind piece. Handmade just for you with a theme of your choosing. This strapless corset dress with a sweetheart neckline, hugs you while the skirt billows out beneath. An adjustable bustle skirt that when extended to full-length sweeps the floor. When shortened, it creates a high-low look while maintaining the elegant floor-sweeping feature with the train.
With the customizable nature of this dress, the creation time is slightly long, at 12-14 weeks.
Theme customizable
Color choice
Plus size steampunk wedding dress
Petticoat not included
Unipurpose
---
Our Favorite Wedding Dress
Only the best will do on your wonderful day. One that fits your body well, is the centerpiece of your theme and is comfortable to wear. That's why our choice for the best dress is the Victorian Steampunk Wedding Dress. A classic style with a pronounced corset. The satin is light in weight so as not to be stifling and the adjustable skirt offers on the spot change. The array of colors available means you could have a romantic red steampunk wedding dress or go with the traditional white. A beautiful option and one available to those being more frugal.
---
---
Related Posts