How to Find the Best Steampunk Mugs (2018 Review)
By Steampunk Origins | Updated Sep 07, 2018
When it comes to Steampunk mugs it's all about where you're going. If the answer's nowhere then you really need to start thinking about décor. Every year millions of Steampunks are driven into panic driven time quests just because someone referred to their tea set as "chintzy".
Steampunk Mugs Quick Review
Top Choice: Stein
Let's drink like there's no tomorrow, I should know, I'm a time traveller.
---
Steampunk Mugs
For those wild one's looking for a bit of adventure understand what you're dealing with. Nobody wants to come across as crass or ignorant. The wrong materials in the wrong time and the whole evening's a bust, and not the dramatic kind, but awkward and civil. So, if you're looking to make a splash or ruin Louis the XV's street cred (source) you better know what you're doing.
Steampunk Mugs Review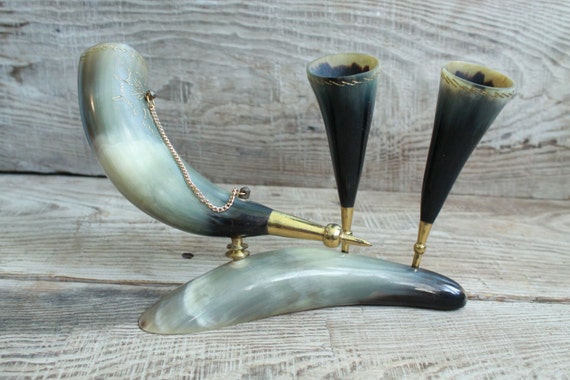 When normalizing with the Normans you need that little extra.
Now, as a time traveller your time-machine's bound to have a break down once in a while, it's understandable (mine found his wife in bed with someone else). If you're lucky it'll be somewhere cosmopolitan, sweet, and Sunkist. For any landing around Seven hundred AD (source) you're going to be in trouble if you're trying to fit in while draining your alcho-boots.
You, my friend, need a drinking horn. Thanks to VintageBoutique4U you can get a whole set just in case your whole family are caught in the Anglo-Saxon conquest and you need something to trade. Guaranteed to hold more than a skull, and a lot less hassle to replace. Don't leave your future in the hands of fate, do yourself a favor, buy a horn.
A work of art
Handmade
Ready to ship in two days
From the Nineteen eighties
Favorited by over four hundred people
Made from horn
Made from horn, which is a problem if you're not into that
One of a kind, so you might miss it
---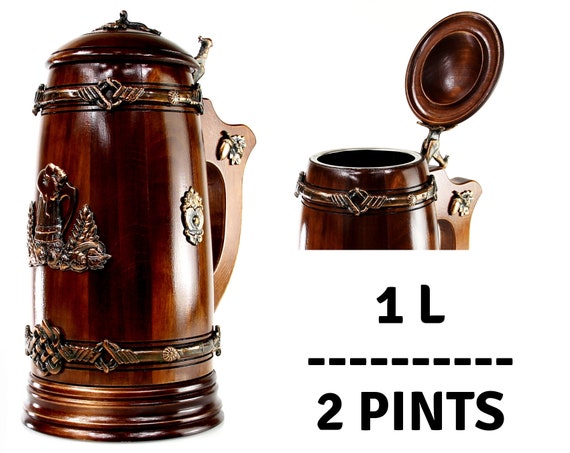 Let's drink like there's no tomorrow, I should know, I'm a time traveller.
For those who don't believe politics should get in the way of a good beer, the Stein is the close companion of the dubious time-traveller. A beautiful feat of craftsmanship, powered by traditional technology guaranteed to give you alcohol poisoning, all you have to do is keep filling it up over as short a time as possible.
Made by the WeSellDream, the Stein is multi-purpose, meaning you can fill it with beer, wine, coffee, tears, you name it. State of the art engineering means you can fill it with any liquid. It might not stay if it's lava or liquid nitrogen, but it definitely fills. Check out the rest of the page for all your wooden needs.
A work of art
Handmade
Ready to ship in two days
Cheap
Makes any drink look fancy
Hardly the most refined mug
Instantly makes you look more evil
Instantly makes you look more silly, which is a terrible combination with evil
Its affordable price means you might run into someone with the same one at your next visit to the Putsch
---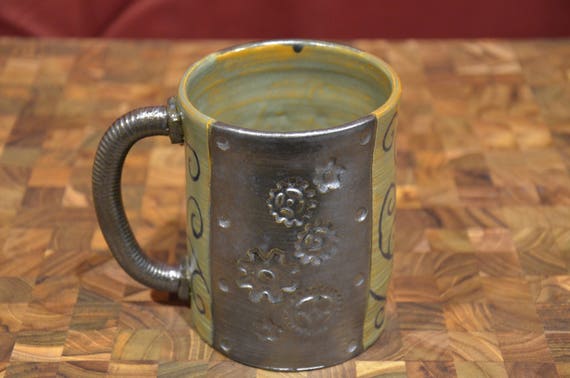 Moulded by clay, and powered vision, my art beats for you.
Cute and personal. The sort of thing carried by proud parents who are happy to let you know that they're kid made this before shoving you into the time vortex. A mug for the Steampunk so down to earth they're teaching the Morlocks (source) the rules to cricket.
Made by HillsofClay, a group that's been crafty on Etsy since 2011 and still retains its five-star rating with over sixty reviews. If you're looking for something handcrafted, personal, and made of clay then I'm guessing these are your guys. I could be wrong, but anyone who puts the word "Clay" into their name is bound to know a thing or two about the stuff. Ask nicely and you're bound to end up with something beautiful.
A work of art
Handmade
Ready to ship in three days
One of a kind
Perfect present, all it needs is "World's greatest Dad" with a picture of you and your robot
One of a kind, which means you might miss it
Not the coolest item here, but it's the thought that counts
---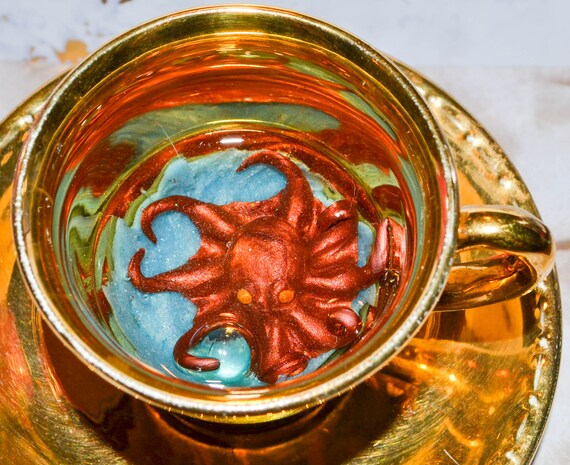 Taste the sea in your tea thanks to Octo-Juice.
For those respectable citizens who want the finer things of life, while reminding the universe what we do to telesales Cephalopods (source) around here. Charming, elegant, and slightly mental, the Octo-juice has it all.
Made by CelestialEmbersArts, the Octo-juice is just one of many polymer clay sculptures straight out of the mind of a day-dreaming dragon who has made its lair on Etsy. There may be only one Golden-Octo-juice, but there are other squid-filled-cups out there, and I know one of them is going to make you very happy. Alternatively, you could just raise questions on the metallic consistency of your desired cup and CelestialEmbersArts will do their best to sort you out.
A work of art
Handmade
Ready to ship in two days
Made with real sculpted squid
Weird
Helps you imagine a world where all the seas are full of tea
One of a kind, which means you might miss it
Not as expensive as some of the items here, but more than your average charity shop
---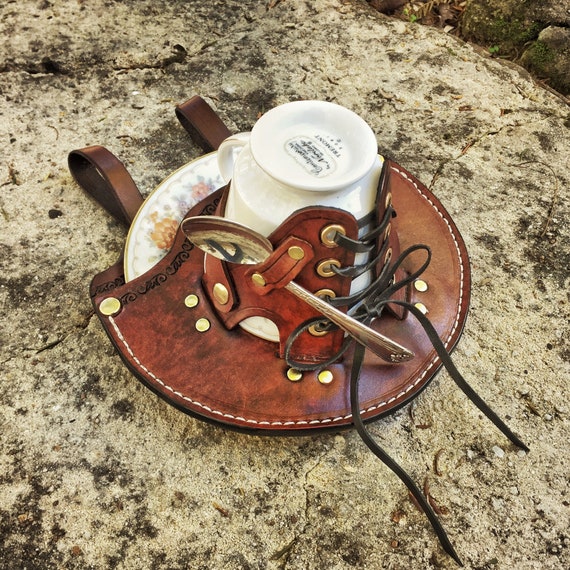 Feeling thirsty now that the rain has stopped? Get a CupHat.
Ever wondered why they're aren't enough covers for your cups? Tired of trying to inject a little culture only to have it ruined by a little filth on your cup and saucer? Then it's time to introduce the CupHat. Here to offer that needed protection from a cruel and inhospitable world, while providing a nifty hat for the small and mental.
Leatherheds is the company behind this strange contraption, with many other leathercraft products for serious Steampunk's willing to pay for the best. TheCupHat is there for Steampunk's wanting to represent across the Cosmos with little regards for time periods or its symbolic ties to Snail hate-groups in the twenty sixth millennium.
A work of art
Handmade
Ready to ship in two days
Irrevocably Steampunk
One of a kind, which means you might miss it
Expensive
---
The Best Steampunk Mug
In conclusion, when it comes to mugs you better do your best to not end up as one. Mead horns at the Renaissance might sound kitsch but try flashing a Stein in a dragon longboat and you'll be finding yourself kissing Cthulhu before you can blink (source). All of the items mentioned here are beautiful and unique in their own, coming down to taste and style more than anything else.
When it comes down to that combination of style and price you've got to look at the Stein and all the stuff by WeSellDream. The Octo-Juice mug will keep things so new age it'll be like having your own scrying bowl, with the bonus of squids and tea.
In the end it comes down to preference and choice which — as always — is yours.
Related Posts