The Best Steampunk Metal Art (2018 Review)
By Steampunk Origins | Updated Oct 13, 2018
Steampunk metal art conjures a myriad of images in the minds of these crazed creatives. The sheer preposterousness of the genre means that while there will always be room for infighting and disagreements, hopefully all accept that when it comes to art - it's the real deal, or it's nothing.
Steampunk Metal Art Quick Review
Eyes Weld Shut to the beauty of this bag of bits and bolts.
---
Steampunk Metal Art
Now, how one accurately describes what constitutes as the real deal is a contentious matter open to much scorn and potentially bloody debate. The first rule of Steampunk metal art is that it should be made of metal — or at least looks like it is — it should be personal, handcrafted, and slightly, ever so slightly odd.
Steampunk Metal Art Review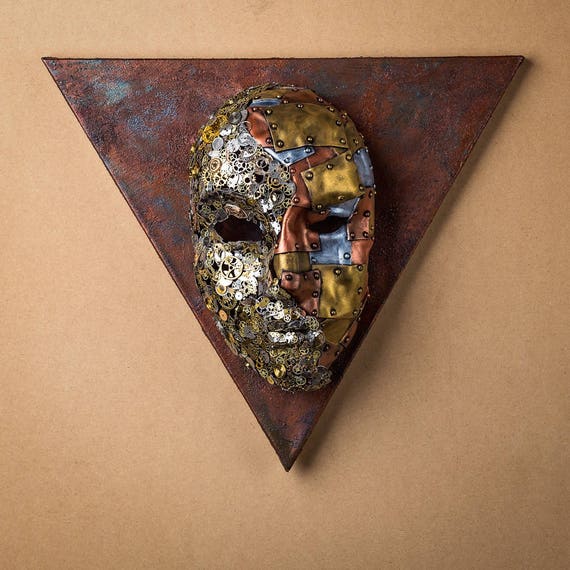 Eyes Weld Shut to the beauty of this bag of bits and bolts.
Now, here's something that's bound to tickle the educated gentleman or gentlelass. Part Venetian. Part Venusian. There's an inter-dimensional renaissance happening— possibly right on your wall.
Hand crafted is essential when dealing with such detail. It's sad, sombre, with a hint of hope that ebbs somewhere behind the eyes.
The price is enough to throw off the windbags and low cut Connie's of the World, but for those that recognise the value of a well-functioning capitalistic society understand that in order to get the finer things out of life you have to be willing to pay for them.
Well, now's your chance. Raid the vault. Brave the dragon resting on your bank notes and shopping receipts and paint your life romantic.
Extraordinary
Hand crafted
Available for quick delivery
Life sized
Not the sort of price you're going to want one in every room, then again you might, how rude of me to suggest such a thing
Have to pay a bit extra for delivery
One of kind, meaning that if you suffer from extreme OCD then buying another is going to be a problem
---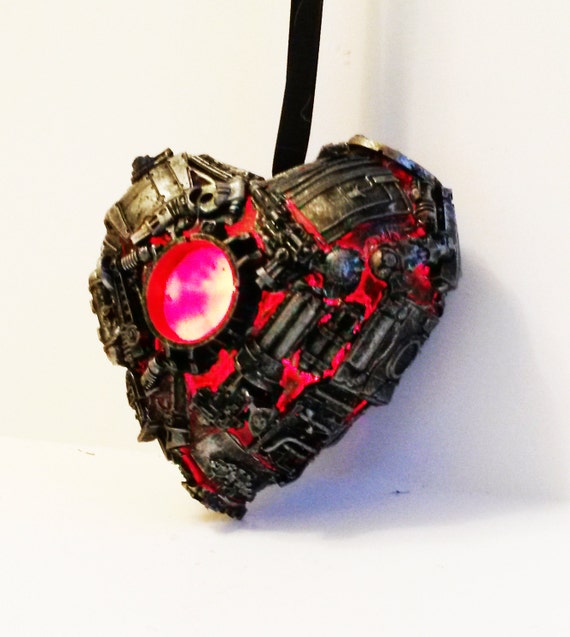 This heart beats eternal thanks to this piece of art.
There's something eerily poignant in this piece of art. An industrious heart that will continue to beat as long as you remember to wind it, possibly give it a tap against the wall when it starts to buzz.
With an affordable cost and over one hundred reviews this is the sort of thing you can buy once, twice, three times a lady. Just make sure none of them will run into each other as it's far from common.
Utterly romantic, with a price indicative of that special someone— or at least someone you really fancy and haven't worked up the courage to ask them for their bra size.
This is everything steampunk: respectful, personal, professional, with a hint of a bygone time, and a hope that some things will never die as long are those willing to put in a little work.
Fine detail
Lots of different material
Handmade
More expensive than if you went out into the woods and tried to do it yourself with twigs and an inability to face up to the reality of your craftsmanship
Comes with a little extra cost for shipping
Not the sort of thing you want to give to someone with cardiovascular issues
---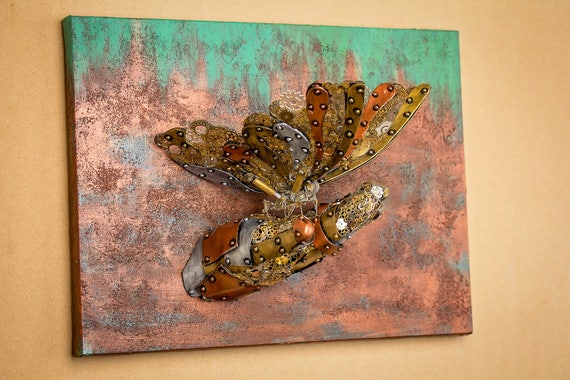 A metamorphic masterpiece.
This beautiful piece is nature meets nurture. It's the transformation of the mind and the body, bound in solder and style. Truly remarkable in its intricacy, an attention to detail that is love expressed in a weird and wonderful way.
Its price is reflected in the sophistication and quality it brings to any room. There's something sublime, almost subtle in amongst the creative chaos. The shifting colours of forever Autumn.
A moment of triumph from terrestrial to airborne, reminding you that it's not a matter of circumstance or time holding you back, it's the decision to stand and fight for what you believe in.
Hand Made
The sort of piece that will leave you discovering something new years after the purchase
Great for anyone who wants to collect pinned butterflies but can't get past the morbidity stage
Lights up
A price to reflect the quality, this beauty comes with a hefty tag
Will not come alive and fly about the house (no matter how much you try to encourage it by pretending to not pay attention)
---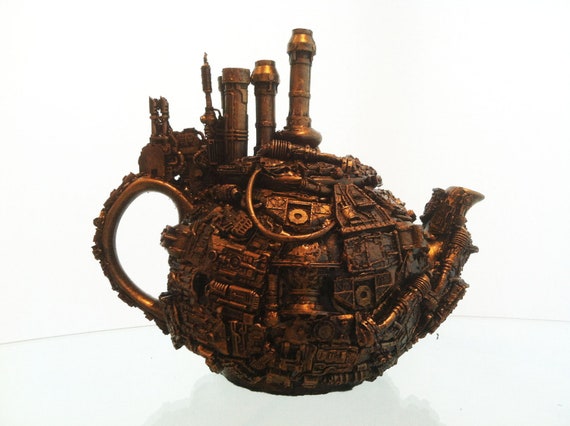 Ever wonder what Alien's Space Jocky would drink out of? Well, here you go.
Can you imagine anything more Steampunk than a robot teapot? The kind of thing you imagine floating through space intent on destroying a galaxy like a British Borg (source).
The idea that a Steampunk connoisseur filling their floating hotel with art would overlook the opportunity to place this pot as the proverbial cherry on the top.
This is the sort of thing you need if you're ever going to be respected in the world of Chap-Hop. With over one hundred and eighty reviews and favourited over two thousand times you're in the presence of something special.
So, stand up. Be heard. Travel the galaxy armed with your trusted teapot. Loosed leaf or hexagonally bagged— what happens in the altered reality stays in the altered reality.
Reminds you of the British Empire, which— thanks to recent developments in time travel —should be coming back relatively shortly.
Beautifully designed
Handmade
Ideal if you're an eccentric billionaire set on buying one of every tea-pot
Ideal if you're just eccentric and like to have people say "Do you know how much Barry spent on that Tea pot? Oh, that's right, he wants us to call him Lord Cat Thumb the Third now."
Will not facilitate intergalactic travel as it's made from resin, ceramic, and wire
Lacks in variation and design
A little expensive if you're not a billionaire who doesn't like to show how mad they are with a new teapot
---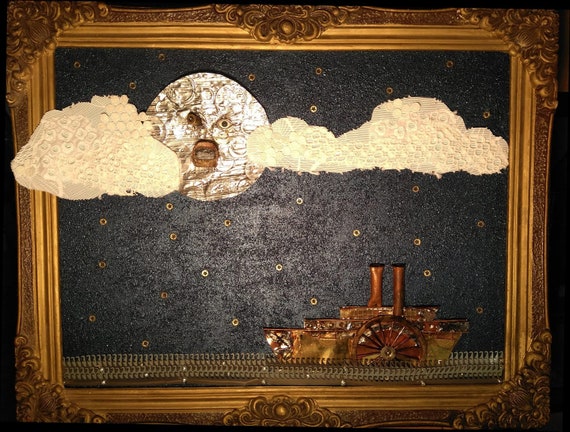 To travel with a glance is effortless in the hands of Marco Graziotti.
Named in reference to George Méliès's 1902's "A Trip to the Moon" (source) with some moments such as the capsule in the anthropomorphic moon's eye setting the groundwork for later Steampunk stories.
The Steamboat below conjures images of George R R Martin's "Fevre Dream" (source), adding a human element to this fantastical piece.
The piece is minimalist in tone is heightened with the use of metallics in the Steamboat, silver moon, and cog stars on a matt background. Marco Graziotti's art is simple yet elegant. It's root in Steampunk is more than a handful of cogs and brass, it's a moment in history played by a professional hand.
Handmade
Beautiful
A Magnum 44 was used in its construction
Signed by Marco Graziotti— the artist
---
Our Favorite Art Pieces
In conclusion, we've barely begun and already our journey has come to an end. The verdict? Steampunk art is as rare and ravishing as the souls amongst its brave and brightest. Here is a place that goes beyond the idea of fads and fancy and flitters about in the muck of the unconscious — as all good work does.
If you're looking for something personal, then it's hard to look past the venetian mask. A symbol of cultural revolution, with that Steampunk flair you know and love. If you're looking for Shellian romance for affordable costs, then the ticking heart will allow you to share your requited love as many times as needed (good science is all about repeated measures).
The options are open. The possibilities far grander than those mentioned here today. So, have fun. Give someone the chance to create just for you.
And remember, the choice — as always — is yours.
Related Posts