The Best Steampunk Girl Costume
By Steampunk Origins | Updated Oct 09, 2019
Generally speaking, Steampunk is seen as a subgenre of science fiction combined with technology and the aesthetic of designs inspired by the 19th century. The roots of Steampunk lies in the Victorian era when the futuristic work of authors like Jules Verne (Around the World In Eighty Days, The Steam House) and H.G Wells (The Invisible Man and The Time Machine) came to be.
Steampunk Girl Costumes Quick Review
A 100% polyester costume with attached petticoat, pleather belt, printed design and velcro back closure. Ensemble includes goggles, choker and fingerless pleather gloves.
---
What is Steampunk Exactly?
Elements of mad science, time travel, mechanics, engineering and neo-Victorian aesthetic are blended together to deliver a message that speaks of a cultural movement. It ties a sense of longing for the futuristic past that never came to be and shapes a platform that allows for artistic expressions of music, literature, art, entertainment and most importantly, fashion.
What Makes A Steampunk Costume Special?
There is a sense of adventure that lies within DIY costuming that involves an exciting blend of neo-futurism and the essentials of the Victorian era. It's all about mini top hats, corset tops, full skirts, military jackets and lace-up boots. Colors associated with Steampunk usually include deep reds, ivory, brown, green and black. Lace and ruffle trims adds a Victorian edge to the leather and brass that creates an industrial feeling.
For kids, this is not only a time to pay things up a notch in terms of the usual Halloween or themed party costume, but they also get to learn about something that their history class won't provide.
Is it Alright for Girls to Wear Steampunk Costumes?
Totally. There are many age-appropriate Steampunk costumes out there for girls and it's blended with many other fun elements to create a look that won't raise any eyebrows or worrisome commentary from other parents.
Perhaps you can opt for a cheeky Wild West Wonderkid ensemble or even a Victorian Mini Madame costume that is sure to make your little one steal the show.
Are There Different Types of Steampunk Girl Costumes?
As long as you have a general idea of what you are working with, Steampunk can be incorporated into quite a few themes that include The Wild West, Circus, Magic Shows, Time Travel, Pirates and Victorian. There lies plenty of enjoyment in the creation and preparation of a costume that can be personalized and crafted around the Steampunk Genre.
Steampunk Girl Costume Review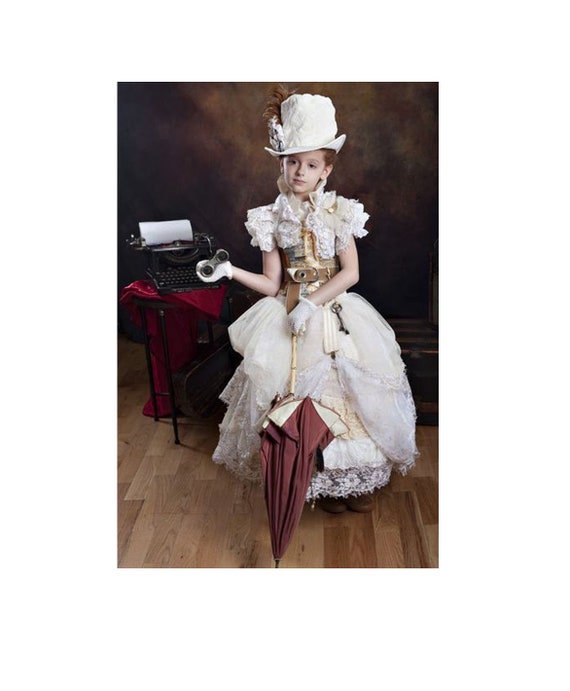 A custom Time Travel Girl costume that works well for ages 4 to 10 and requires exact measurements and color samples for production purposes. Full ensemble comprises of a skirt, corset, belt and cropped jacket.
Our very first pick has all the right elements to win the hearts of anyone who hands out candy on Halloween. It's a carefully crafted costume that comes with a floor-length dress made from vintage lace, a waist corset, belt and cropped jacket.
This handcrafted gem comes at a hefty price and it would have been nice if the mini top hat and hoop crinoline was included, but this is an option of very high quality and sure to bring the Steampunk magic to Old Hallow's Eve.
The custom-made pieces come in different sizes for different ages up to pre-teen. The designer requires full measurements and color preferences for a personalized look and can only start her work on the piece once full payment has been received.
Custom design
Detailed features
Pre-selection of colors
Expensive
Doesn't include extras: top hat, etc.
---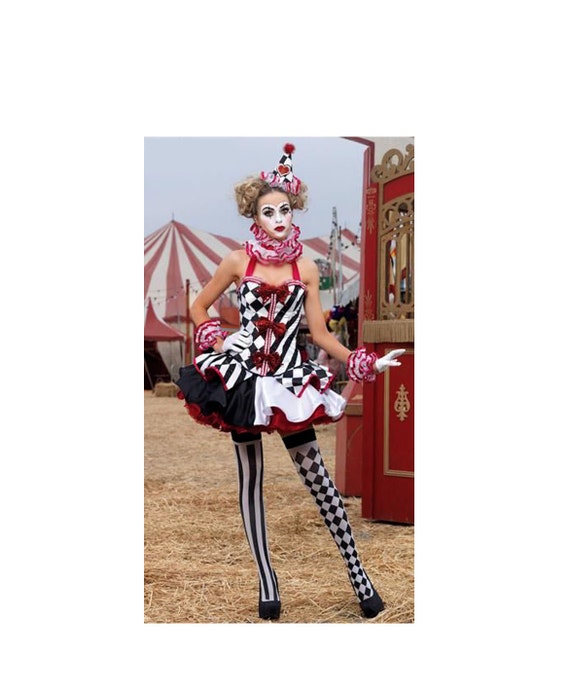 A colorful 4 piece set, custom design for ages 6 to 12. All costumes and pieces from this seller takes between 4 to 6 weeks, but does require exact measurements. Includes: skirt, wrist cuffs, a neck ruffle and red bow.
From the same designer as the above-mentioned costume, we present to you the Steampunk Circus Girl Costume at a lower price. This four-piece set is custom designed in a corset with a lace-up back and red sequin bows in the front.
The black and red satin skirt is made with 3 under layers and comes with white organza wrist cuffs, a neck ruffle and a red bow for the back of the skirt.
What the former ensemble lacked, this one makes up for. The designer offers purchase on matching accessories that include the clown hat, gloves, pettiskirt and long socks.
This selection is definitely a lot more 'out there' and the eye-popping use of color and fabric is something that will create a memorable costume for a circus-themed party.
Ensemble contains some accessories and if required, additional elements can be purchased.
Color option is limited to what is seen on the shop's page.
---
A 100% polyester costume with attached petticoat, pleather belt, printed design and velcro back closure. Ensemble includes goggles, choker and fingerless pleather gloves.
It doesn't get more on point than it does with this cute ensemble. It is Steampunk in all its glory with an age-appropriate color option and accessories.
What beats it from the former two, is the pricing, but offers no customization, so it's imperative to make use of the measurement chart that they provide next to the product image on the link.
Even if polyester is not the most sought-after textile on the market, you get a good overall design and the costume combiness Steampunk themes such as gears, machinery and some Victorian details. It's a perfect costume that can be worn for any kind of adventure.
Comes with accessories
Full size chart available
Affordable
Single color option
Can only be spot cleaned.
---
100% polyester interlock knit, stretch velvet, faux suede & faux leather. Short, puffy velvet sleeves have cream interlock ruffle at edges. The bodice front has an interlock center panel & faux suede side panels.
Finding costumes for teenagers is no easy feat, but luckily Steampunk comes to the rescue with something that still has the cool factor without being 'too tacky' and dated.
This is definitely an option that stood out because it includes accessories and really creates an adventurous look with a burgundy and brown dress, lace-up gloves, top hat and decorative goggles.
It might the best way to look for a journey into world of steam and brass, but it will set the tone for a Halloween school dance and perhaps even a carnival outfit.
Ensemble comes with goggles, top hat and gloves.
Size chart needs more specifications.
One color option
---
A children's contessa costume that contains a dress and jabot with stand-up collar and a mini hat. Shoes, tight and parasol sold separately.
The last one on the list doesn't necessarily mean the least. This is a perfect option for toddlers and is bound to set the cuteness alarm off. The colors selection makes this mini Steampunk costume perfect for Halloween, but more so for themed parties.
Accessories like shoes and the parasol are sold separately. One concern that did come into question was the quality, but it's worth considering the price and the fact that this is designed for toddlers (who are bound to outgrow it in seconds or rip it to pieces while playing) so there is really no reason to consider anything that is too grand.
4 sizes available
Affordable
Perfect for toddlers
---
Our Favorite Costume
It was a tough call to make with all the cuteness that is on offer. In a nutshell, there are many ways to dress up with the elements that surround Steampunk and it's not very difficult to create a look with different accessories, but in terms of an overall approach in what a costume can offer, the Original Young Girl Steampunk Costume is the one that stood out most.
It's definitely an age-appropriate ensemble and it comes with accessories that completes the entire look. Its affordability is something that really added more value to its appeal and the fact that 88% of their customers were very satisfied with the fit. It is most certainly our favorite pick of the lot.
---
---
Related Posts