Ultimate Guide to Steampunk Boots: Women's
By Steampunk Origins | Updated Oct 11, 2019
Are you buying a gift for a special someone and in search of the the best pair of steampunk boots? Women's boots are widely available both in stores and online, but finding the right pair that perfectly matches her steampunk style can be a challenge. There are lots of components to a fashion aesthetic, but for steampunk, footwear can make it or break it.
For any woman (or anyone with a feminine style) who is into all things steampunk, a good pair of boots can really solidify her look. Here are some awesome options that could help your spouse, girlfriend, partner, friend, relative, or whoever else, feel like her best steampunk self.
Steampunk Boots: Women's Quick Review
It's not really surprising that an Etsy shop called VictorianBoots makes great, well, Victorian steampunk boots.
---
What is Steampunk Anyways?
Most of you looking for a pair of steampunk women's boots probably already know about the steampunk subculture, but just in case, here's a breakdown:
Steampunk originated as a science fiction sub-genre that was allegedly created by the author Kevin Jeter as a way to distinguish the period-based science fiction he and other writers were creating, in contrast to the futuristic "cyberpunk" sci-fi that was more predominant at the time (source).
Since then, steampunk has evolved into both a visual aesthetic and a thriving subculture dedicated to celebrating the philosophy of combining the old and the new by merging Victorian aesthetics, the steam-based technology of the Industrial Revolution, and 21st century community building.
Steampunk in Pop Culture
Steampunk inhabits so many spaces within popular culture: video games, literature, film, fashion, and interior design are just a few. As a style, "Victorian industrial" could be another way to describe it.
Steampunk's influence can be seen even in mainstream fashion and interior design, with a resurging appreciation for "old fashioned" materials like brass, copper, wood, glass, and leather. It has also influenced the trends of upcycled or recycled clothing, a renewed value in handmade goods and products, and repurposed vintage mechanics (source).
Steampunk Footwear, Cosplay, and Fashion
With over 43 conventions worldwide scheduled in 2018 alone (and more to come in 2019), there's no denying that the steampunk community is thriving (source). Geographically, the conventions are located everywhere from New Zealand to Mississippi to the United Kingdom.
The large majority of them are in the United States and Canada though, which is good news for those of you in North America. Wherever you are, there's probably a steampunk convention not too far from you (source). A huge part of steampunk conventions is the cosplay, and you're sure to see all kinds of people dressed in their Victorian industrial finest, each tailoring the aesthetic to their own personal style.
Steampunk fashion isn't just for cosplay though! It's easy to incorporate steampunk inspired pieces into a contemporary wardrobe, and in my opinion one of the best ways to do that is with a great pair of steampunk boots. Women's Victorian style boots can especially solidify a steampunk aesthetic. Here are a few of my favorites.
Steampunk Boots: Women's Review
If you're looking for women's boots that practically screams steampunk, these steampunk heels are a great option.
These steampunk high heel boots are probably the most distinguishably steampunk of the bunch. In addition to their Victorian style front lacing, they have metal gear detailing on the ankle and on the double straps that sit just under the knee.
There is definitely one anachronism though: the four inch stiletto heel adds a sexy element which most Victorians would probably find scandalous.
That said, in my opinion these steampunk high heels look great, but they probably won't be the most comfortable for a long day of walking around a convention.
They come in two different color options: brown with black accents, and olive green with brown accents. Either choice is versatile enough to be styled with almost any steampunk themed getup.
Noticeable steampunk aesthetic
Adjustable straps fit a wide range of calf sizes
Velcro straps for easy on and off
Not the most comfortable
These aren't heavy duty boots made to withstand daily use
---
Forever has designed these steampunk knee high boots to be comfortable, versatile, and fashionable. Like the brand name suggests, they really do go on forever too.
One of the best things about these over the knee boots is that they're so versatile - they would look amazing with a head to (literal) toe steampunk convention look, but I think they would also add a stylish vintage-inspired touch to a more modern outfit as well.
Over the knee boots are actually really popular in women's fashion right now as a bold statement piece, so I think these would be a good choice if you're looking to give a gift that will offer a lot of use.
They also come in 11 different color and material options, including everything from the classic black leather to blue denim. With a 2.5 inch chunky heel, these will also probably be comfortable for your lady-friend to wear all day and night.
Wide size range and multiple color options
Easy to walk in
Versatile
Full length zipper for easy on and off
Run about half a size large - order a size down
Need to be broken in at the knee and ankle
Select the right color carefully - there are multiple black and brown options
---
Most actual Victorian style women's boots had some kind of heel, but luckily modern women have more options. These are a good choice for women who prefer flat shoes.
Like the previous pair mentioned, these boots are really versatile and would work with full steampunk cosplay or as an everyday steampunk option.
Coming in around $35, Wild Diva's Lace Up Knee Boots are pretty affordable and their man-made soles make them a good value for their low price.
There are eight different color options, and depending on which one you pick, the buckle detailing on the ankle and calf and studs on the lace loops will be either silver or brass.
If you're looking to gift some steampunk lace up boots to a woman who isn't comfortable walking long distances in heels or prefers slightly more masculine steampunk footwear, I would definitely consider these.
Comfortable enough to be suitable for a long day of walking
Pair well with a wide range of looks and outfits
Great value for the money
The calves run wide
Not waterproof, so maybe not the best choice for rainy climates or outdoor use
---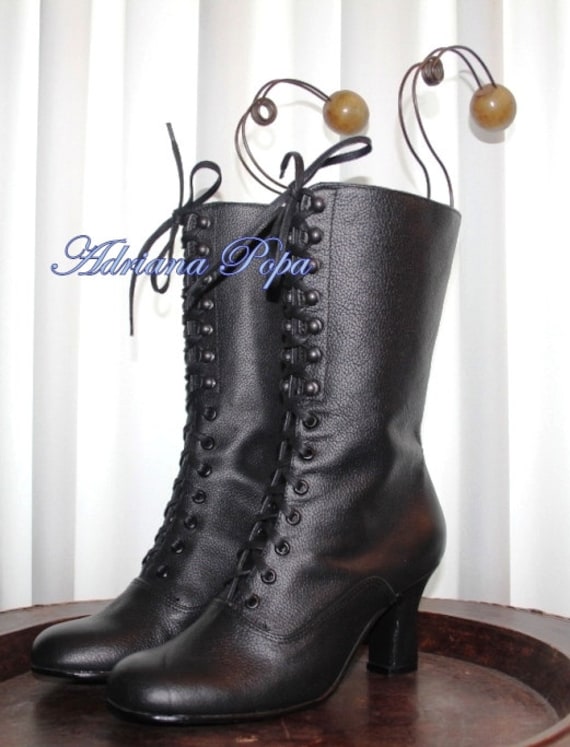 It's not really surprising that an Etsy shop called VictorianBoots makes great, well, Victorian steampunk boots.
If you need women's Victorian style boots in an unusual size or material, I think this Etsy shop is a great option. There are lots of listings for classic steampunk leather boots like these, but you can also find boots and shoes in lots of other sizes, styles, colors, and materials.
This seller will custom make boots to fit any size, so they are great for people with especially wide or narrow feet or calves.
You can even send in your own material and have a pair of boots made from them, which would be a great way to repurpose something that isn't being used anymore or has sentimental value, true to the steampunk upcycling philosophy.
The materials made to use these boots are really high quality: Black Italian leather and suede leather inside, so you should be able to expect them to last a long time. They are the most expensive on this list, but I think the quality justifies the extra cost.
Boots this nice would look great with most outfits and looks, but they're modeled from a vintage 1900 boot pattern, so you know they're the real deal.
Comfortable
Great customer service
High quality and long lasting
Standard shipping can take 2-3 weeks, and expedited shipping costs around $100
More expensive
---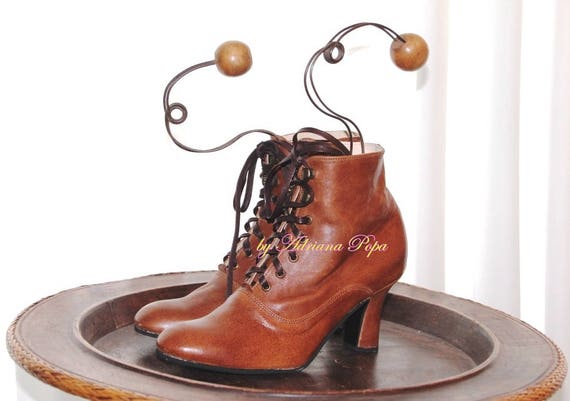 Booties are widely appreciated in women's fashion for their ability to go with pretty much anything, and these steampunk ankle boots reflect that well.
These are another gorgeous pair from VictorianBoots' Etsy shop, and all the great things about the previous pair apply to these too: they're hand made from quality Italian leather and suede, comfortable, and able to be customized however you see fit.
Ankle length booties are popular in today's women's fashion because they are stylish, comfortable, and pair well with a cocktail dress or a pair of jeans, adding an elegant touch without overpowering the outfit.
In the Victorian era they were called "Granny boots," but you probably don't want to tell the woman you're giving them to that!
These boots are only six inches from sole to top, so they would make an attractive but understated addition to any steampunk inspired look.
Great, luxury materials
Comfortable heel
Pair well with any style
Expensive
Lengthy shipping process
---
Conclusion
Any of these pairs of women's steampunk or victorian inspired boots would make a great gift for the steampunk loving lady in your life. When choosing a pair, pick the ones that best suit her needs and style.
Consider what heel height she prefers, where she will probably be wearing the boots, and of course her personal style.
That said, if you're unsure, I think the Black Leather Ankle Boots from VictorianBoots are a universally good choice for their high quality, timelessness, and gorgeous steampunk aesthetic.
Even though they're more expensive than other options, they aren't overpriced and are likely to last for many steampunk conventions to come.
All of these boots embody the steampunk aesthetic and any pair of them would make a great addition to your significant other's, friend's, or relative's Victorian inspired wardrobe.
---
---
Related Posts