The Best Steampunk Bathroom Decor
By Steampunk Origins | Updated Oct 09, 2019
The roots of Steampunk lies in the Victorian era when the futuristic work of authors like Jules Verne (Around the World In Eighty Days, The Steam House) and H.G Wells (The Invisible Man and The Time Machine) came to be.
Alright, let's not get carried away with history. If you are looking for Steampunk Decor for your bathroom, then it's almost a given that you are well aware of its origins.
Steampunk Bathroom Decor Quick Review
Fusing technology with natural organic elements, this industrial pedestal sink seamlessly blends the past with the present through its unique aesthetic design.
---
What is Steampunk Decor Exactly?
Steampunk bathroom decor combines elements of the industrial revolution, steam power and the Victorian era. All of these unique features are blended with futuristic touches that will make your bathroom stand out from an ordinary design approach.
Think of materials like copper, brass, mechanical pieces and retro-futuristic decor elements and gizmos that are unmistakably Steampunk.
Where Do I Start With Steampunk Decor?
So, now that we know that this trend is a mixture between elegant Victorian interior accessories and the strength of industrial elements, we can look at a few points to help you navigate your way through the steam.
When looking at color samples, you'd want to stick to brown, sepia, cream, black, dark reds and greens. You may want to choose more than one shade to work with and build your concept (source) from there.
Making use of refurbished or vintage pieces will help add that Victorian charm that you need. This can be combined with exposed brick walls, brass and copper elements (lighting (source), taps and pipes).
You can take things up a notch with cheeky black and white tiles and a small collection of framed maps for a wall that might need something to make it stand out.
Is Steampunk Decor for Me?
Steampunk decor (source) might be very unique in its own way, but its very diverse and combines many different design aspects.
Keep in mind that a Steampunk bathroom is not for the faint-hearted. It requires warmth, depth, a mix of masculine and feminine touches and an overall classic industrial feel to make it work.
Should you be more drawn to clean, minimalistic and bright design elements, then Steampunk might not be your cup of tea. In all its robust glory, it needs to be followed through down to the smallest detail and requires you to work with a concept or a general style direction.
Most of all, it's important to have fun and to express your adventurous side if this is the route you plan on taking.
Let's get you started with the basics and what we think will make your Steampunk Bathroom a winner...
Steampunk Bathroom Decor Review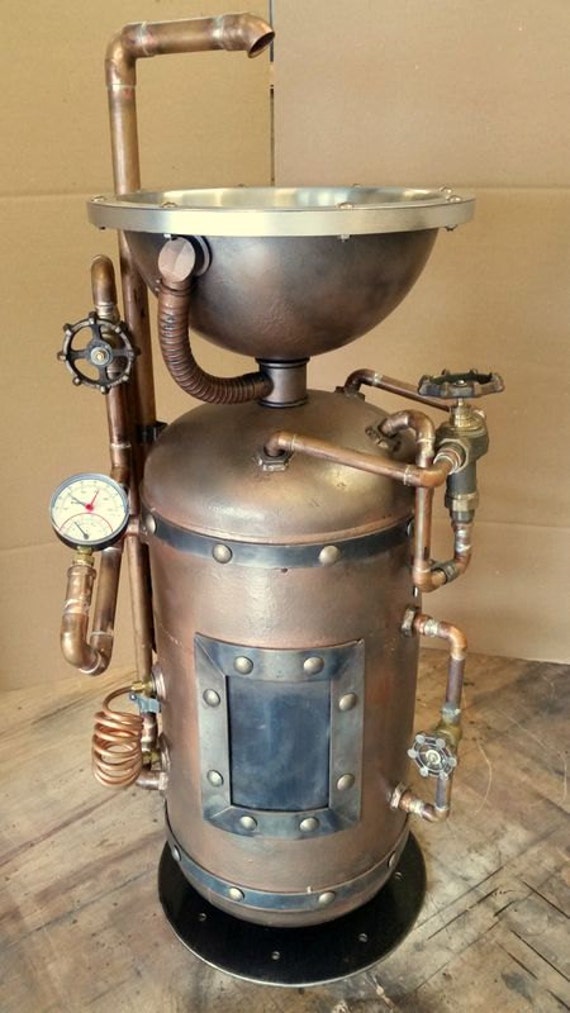 Fusing technology with natural organic elements, this industrial pedestal sink seamlessly blends the past with the present through its unique aesthetic design.
This baby is as Steampunk as it gets. Let the industrial magic of this pedestal sink set the tone for your new bathroom. The antique boiler-style body and the polished bowl with its open copper pipe faucet embodies the definition of Steampunk style down to a T.
The sink is fully functional and ready to install in your bathroom and it features custom-made elements that will suit your design concept. You can expect a hand-crafted sink with dimensions, features and designs that are fully custom-made to your specifications.
The team is happy to make any adjustments or add personal touches to the sink and takes about 8 to 10 weeks to complete before shipment.
Custom design.
Ready to install.
---
Industrial pipe / loft lighting Steampunk style wall sconce with black light bulb cages.
Now is not the time to think of softer touches or anything that might let you stray from the Steampunk path. With this Vanity Light Fixture you are bound to shed light on a very specific design concept that will probably present quite a few Instagram stories. Go on, take the leap.
Haddock Industrial takes pride in crafting handmade fixtures by using high-end materials and thicker pipes than most other shops. Plus, it looks pretty darn awesome.
Can be made into a larger fixture.
Can be made with or without bulb cages.
Does not include Edison bulbs.
---
A rustic design pipe toilet paper-holder made with highly durable industrial steel pipe to create a sturdy toilet paper holder for your bathroom.
Against a open-brick wall this Y-Nut Toilet Paper Holder will create a cool vintage place for your paper to hang from and why would you want to go the ordinary route when you have already invested way too much thought in your Steampunk Bathroom Project?
We'd like to think that this might be a great conversation starter and perhaps even a stepping stone to incorporating more elements like this throughout the rest of your home.
Simplistic design.
Easy use.
Sealed against rust.
---
Made from Cold Cast Bronze. The finished casting give the appearance and weight of solid metal. Screw and plastic anchor included. Very detailed and high quality.
Now we're talking... A Decorative wall hanging hook with a twist. Similar items we found online were mostly made of resin, so it was a welcoming surprise to stumble across one that is made entirely of metal. It's coated and treated to resist rust and the intricate details gives it a very special look.
At only 0.32 ounces and no more than 7 inches in size, you can line up a few of them next to your basin for hand-towel usage and it seems like when mounted properly, that they can carry the weight of a regular bath towel too. Neat!
Great value for money.
Made of metal.
---
Premium grade photo paper. Designed for a lifetime of enjoyment.
Yet another set of conversation starters and a little bit of insight on the things that we have until now, maybe taken for granted. This 4-piece collection of bathroom patent prints are just what your Steampunk Bathroom needs.
The four prints show inventions and their background with quirky vintage touches. From the creation of toilet paper (December 22nd, 1981) to the very first toilet seat cover design by Herbert Macdonald in 1936. The bathroom has never been this fascinating!
Very insightful and creative.
30-day money back guarantee.
Premium grade paper.
Quality print and delivery.
No frames or wall mounts.
---
Our Favorite Bathroom Decor
There is only one conclusion here: All of the sourced elements above should work well in a concept that is built around a Steampunk-themed bathroom. If it doesn't stand as a collection, then you may find alternatives from the selected items.
Style is essentially a personal thing and it always helps if you have a clear idea of what it is that you envision as an end result.
Our favorite piece has to be the Steampunk Industrial Sink as it brings the beauty of Steampunk art into everyday life. From the antique boiler style body to the polished bowl with the open copper pipe faucet, this industrial sink embodies the definition of Steampunk style.
Featuring a working temperature / water pressure gauge and modern plumbing hookup, it is fully functional and ready to install in your home, office or business.
With that said, we hope that our picks of Steampunk Bathroom Decor will make things easier as you embark on this exploratory journey in redesigning your home, office or business.
---
---
Related Posts